Feb 7, 2019 at 8:30 am
UC San Diego Appraisal Process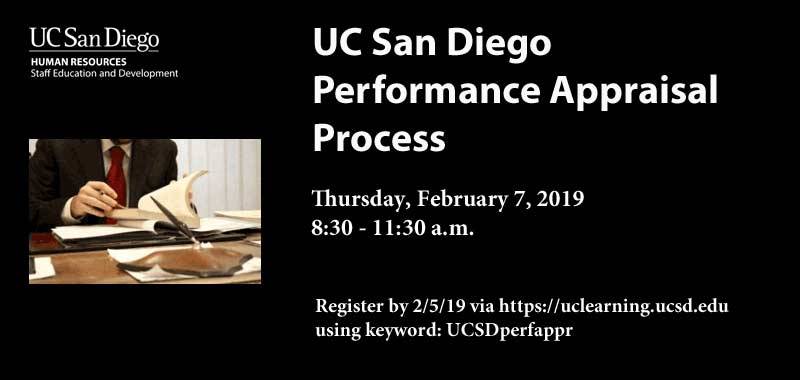 Intended for: supervisors and managers who conduct performance appraisals
In this course, you will learn how to conduct the performance appraisal process at UC San Diego. The following topics are covered:
• Important considerations of performance appraisals
• The process and timeframe
• Tools and resources
• Writing statements to support ratings
• Understanding the ratings
To Register:
• Login to the UC Learning Center by going to https://uclearning.ucsd.edu, or through the Personal Tools menu on Blink, using your Single Sign-On
• Click the FIND A COURSE button, and type the workshop title or keyword in the search box, then click the Enter button
• Using the Select button to the right of the activity name, click REGISTER in order to see the available date(s)
• Select the offering of the activity you wish to attend by selecting the small circle next to the blue box.
• Click SUBMIT to finalize your registration
Remember, if you don't receive a confirmation e-mail from noreply@ucsd.edu, your registration did not complete.
If you have any questions, please contact Staff Education & Development, staffeducation@ucsd.edu or (858)534-4890.
Date and Time
Feb 7, 2019 at 8:30 am
Location
Training Center North (Plaza Level, Torrey Pines Center-North)
Event Registration
Registration for this event is required by Feb 5, 2019. Visit the registration page for details.

Event Fee
Free
Contact
Staff Education & Development • staffeducation@ucsd.edu • 858-534-4890
Audience
Staff
Event Host
Staff Education & Development
Event Category