Jul 11, 2017 at 10:00 am
UC San Diego Blood Drive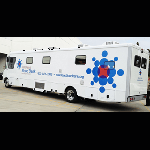 Tuesday, July 11, 2017
Wednesday, July 12, 2017
10:00 a.m.- 3:30 p.m.
Bloodmobile on Library Walk
When scheduling an appointment online, please log on to San Diego Blood Bank, click on "Donate Blood" select "Appointments" and provide the sponsor code: UCPC.
Earn points every time you donate. Points can be redeemed for Amazon gift cards, movie tickets and much more! Visit www.sandiegobloodbank.org and click on "Store" at the top of the page.
*Donors are advised to drink plenty of fluids prior to donation. Maintain usual eating habits on the day of donation, avoiding fatty foods if possible.
Date and Time
Jul 11, 2017 at 10:00 am
See more date(s) and/or time(s) below.
Location
Bloodmobile on Library Walk
Event Registration
Registration is not required for this event.

Event Fee
Free
Contact
Erinn Islip • edislip@ucsd.edu • 858-534-6929
Audience
Faculty, Staff, Students, The General Public
Event Host
UC San Diego Human Resources
Event Category
Community Service and Fundraising
All Event Dates and Times