Mar 12, 2019 at 5:00 pm
UC San Diego Extension #HerPower Event March 12th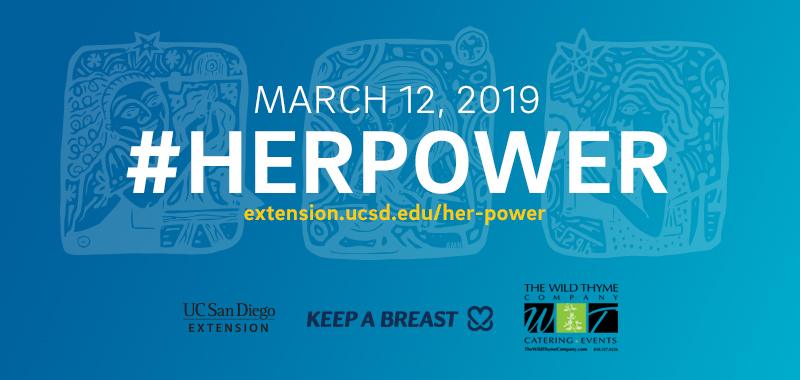 To commemorate Women's History Month, UC San Diego Extension is hosting a free event highlighting the successes and challenges of women in our local community. A panel of distinguished speakers will share their visions and personal experiences, bringing awareness to issues faced by women working in nontraditional fields and industries. The event will be followed by professional networking opportunities and interacting with nonprofit groups. Appetizers will be served. Parking and registration are free.
Speakers include:
Dr. Mary Walshok, Associate Vice Chancellor of Public Programs & Dean of UC San Diego Extension
Shaney jo Darden, Founder/Global Chief Creative Officer at The Keep a Breast Foundation
Gwen Conley, Director of Quality at Cutwater Spirits (Moderator)
Alicia McLain, Organizational Transformation & Leadership Coach
Sylvia Mendoza, award-winning author and journalist
Jamie Moraga, President and CEO of intelliSolutions, Inc.
Jennifer Neeley, Marketing consultant, instructor, and author,
Suzy Shamsky, Environmental Health & Safety Professional

Date and Time
Mar 12, 2019 at 5:00 pm
Location
Event Registration
Registration for this event is required by Mar 12, 2019. Visit the registration page for details.

Event Fee
FREE
Contact
Andrea Laserna • alaserna@UCSD.EDU • 858-534-8148
Audience
Faculty, Staff, Students, The General Public
Event Host
UC San Diego Extension
Event Category