Sep 5, 2018 at 12:00 pm
UC San Diego Library's Toy Piano Festival Returns with New Works Sept. 5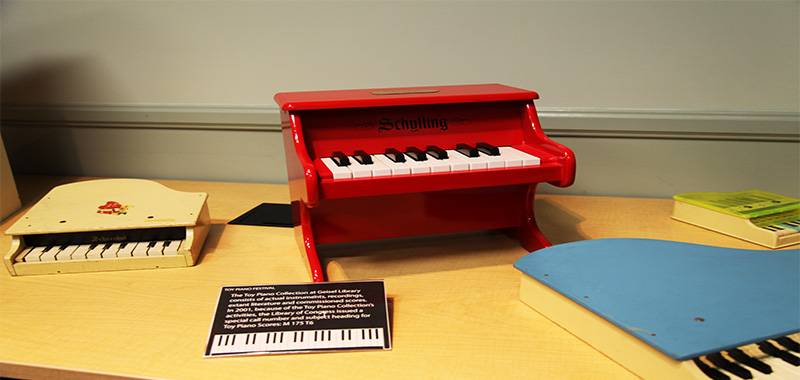 The popular festival, now in its 18th year, will feature two performances this fall, the first at Geisel Library in the Seuss Room on September 5 at noon, and a special collaboration with the San Diego Public Library on Sunday, September 9 at 2:30 p.m. in the Neil Morgan Auditorium.

Join festival director Scott Paulson and his toy piano colleagues for a performance that will amuse listeners of all ages.

Since 2000, the UC San Diego Library has hosted the Toy Piano Festival every September, to pay homage to the September 5 birthday of John Cage, the first composer to write a serious work for toy pianos. In May of 2001, the Library of Congress issued a subject heading and call number for toy piano scores, at the request of Paulson, the Toy Piano Collection, and the events at Geisel Library. The call number is: M 175 T69.

The toy piano collection at Geisel Library consists of commissioned scores, literature and recordings, and actual toy pianos, ranging from simple four-note novelty keyboards to three-octave baby grands. A selection of toy piano scores and instruments will be on stage at the San Diego Public Library event.

Both performances are free and open to the public. For more information, contact Scott Paulson at (858) 822-5758.
Date and Time
Sep 5, 2018 at 12:00 pm
Location
Seuss Room, Geisel Library
Event Registration
Registration is not required for this event.

Event Fee
Free
Contact
Scott Paulson • spaulson@ucsd.edu • 858-822-5758
Audience
Faculty, Staff, Students, The General Public
Event Host
UC San Diego Library
Event Category