Mar 15, 2019 at 7:30 pm
winterWORKS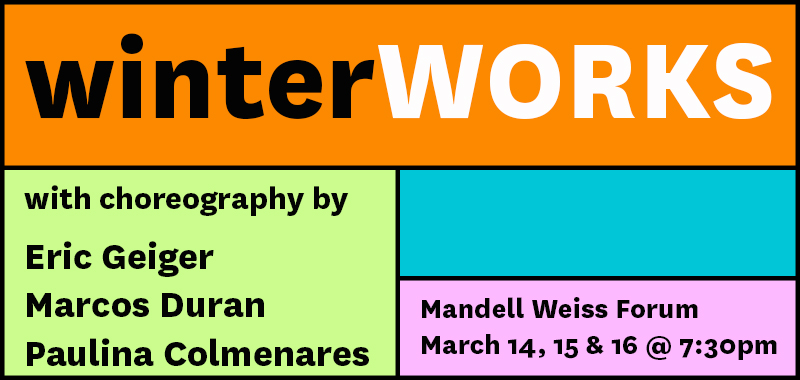 I am a dancer and I make dances collaboratively with other dance artists. Making embodied connections within myself, and with others, helps me to navigate through, interact with, and attempt to make sense of the world around me. My values around performance and dance have been deeply influenced by my experiences in performing works by and collaborating with artists such as Bill T. Jones, William Forsythe, Stephen Petronio, Susan Marshall, Maguy Marin, Angelin Preljocaj, Nancy McCaleb, Sara Shelton Mann, Deborah Hay, Anya Cloud, Liam Clancy, Jess Humphrey, Tara Knight, Leslie Seiters, and LIVE. I'm the Co-Artistic Director of PADL West, a laboratory for performance, art, and dance, alongside Karen Schaffman and Anya Cloud. In my role within the faculty at UCSD, I guide students in experiences that allow us to continually question what dance is and can be. My current, ongoing training as a Feldenkrais Method practitioner is helping me to better understand what the least amount of effort means as well as the idea of reversibility and re-direction in movement and multiple other contexts.
"Most recently I'm noticing how my research and creative work identifies as political. Not by way in which the work itself represents, acts, or dances out some political situation, social injustice or inequity, but by attempting to create a context in which the value system of the process, as well as the systemic structure of the work itself, is the actual, desired change. The work is radically alive and of the moment. Curiosity drives the process and it is tangential. It celebrates the multiplicity of the group and is not a creation of one author. It demands responsible citizenship by making a space for Otherness (that which is alien or divergent from a certain kind of normativity). I identify as queer, as is the process."
Date and Time
Mar 14, 2019 at 7:30 pm
See more date(s) and/or time(s) below.
Location
Event Registration
Registration for this event is required. Visit the registration page for details.

Contact
Mark Maltby • mmaltby@ucsd.edu • 858-822-3152
Audience
Faculty, Staff, Students, The General Public
Event Host
Theatre & Dance
Event Category
Concerts, Performances and Exhibitions
All Event Dates and Times