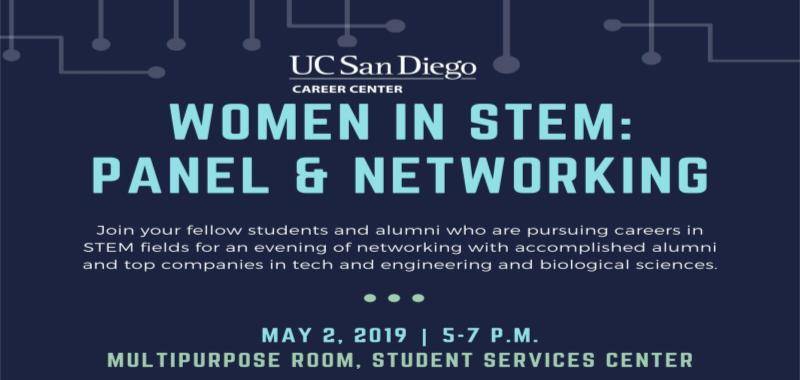 Join fellow students and alumni who are pursuing careers in STEM fields for an evening of networking with accomplished alumni and representatives from top companies in biological sciences and tech and engineering. The first hour of the event will be a panel consisting of alumni who work at leading STEM companies and will share their stories, challenges, and accomplishments. You'll have the chance to ask panelists questions, so please come prepared with what you'd like to ask. The remaining half of the event will be a networking hour, where you'll have the opportunity to connect with the panelists and representatives from the companies listed below.
Appetizers are included. Business casual attire is suggested. Please bring business cards if you have them and feel free to bring your resume. Be prepared with what you'd like to ask company representatives and alumni panelists, as they are participating in this event to share their insights and experience with you to help you prepare for success in your chosen field. During a job search and throughout your career, it's critical to make meaningful connections, as these connections can lead to opportunities including a job offer. This event is your chance to build important connections with experienced alumni and representatives from top companies in your field.
This event is open to all genders.
Registration closes May 2 at noon. Students must register on Handshake. Alumni and postdocs register by emailing mhoon@ucsd.edu.
***Registration does not guarantee admittance to the event. Please arrive early, as this event is first come, first serve. Doors will close once the event reaches capacity.***
Participating Companies:
-Amazon
-Booz Allen Hamilton
-Illumina
-Northrop Grumman
-Pfizer
-Sony PlayStation
-Takeda
-Tandem Diabetes Care
-Thermo Fisher Scientific
-Viasat
Participating Student Organizations and Campus Resource Centers:
-Women's Center
-Women in Computing
-Undergraduate Women in Physics
-Society of Women Engineers
Alumni Panelists:
-Allison Wu, PhD '16, data scientist, global strategic pricing, Thermo Fisher Scientific
Upon receiving her PhD in bioinformatics and systems biology, Allison transitioned her passion for big data analytics from sequencing and imaging data to commercial data and business management. Currently, as a data scientist specializing in pricing at Thermo Fisher, she uses her machine learning and big data analytics specialty to drive important business strategic decisions that can involve millions of dollars in revenue at a global scale.
-Angelica Cheung, B.S. '15, research associate, Illumina
Angelica holds a B.S. in bioengineering and is a research associate at Illumina, a genomic sequencer in biotech. In this role, she works with groups of scientists while leveraging her knowledge of biomolecules and fluorescence to modify and optimize chemistry for Illumina consumables. Her contributions include creating software for analysis of multi-parameter studies and enabling ease of data collection for large-scale projects. Working in team environments and driving new discoveries in the name of biotech advancement are part of Angelica's core values.
-Cailin Treseder, B.S. '18, software development engineer, Amazon
Before graduating with a B.S. in math/computer science, Cailin worked as the only software developer at an architecture firm in her hometown, Albuquerque, N.M. She worked there for two years, writing application extensions for 3D modeling program Revit. In 2018, Cailin began her current position as a software development engineer at Amazon for the Amazon Fresh checkout team, adding core functionality while maintaining a service that impacts thousands of people a day.
-Jessica Chiang, B.A. '99, M.S. '02, senior software engineer, Sony PlayStation
Jessica holds a B.A. and M.S. in computer science. She has worked for the U.S. Naval research lab, a startup that specializes in nuclear material detection, for Northrop Grumman to create remote control systems for Unmanned Aerial Vehicle, and currently works at PlayStation on the Subscriptions Team. Jessica also owns her own business which provides STEAM curriculum, including coding and cybersecurity. She believes that everyone can code and everyone should code, and she works hard to spread that belief.
-Katherine Nadler, M.S. '14, PhD '18, senior engineer, Illumina
With undergraduate degrees in chemical physics and mathematics from Maryville College, and a B.S. and PhD in chemistry from UC San Diego, Katherine now works at Illumina where she develops novel techniques and processes to evaluate the quality of the consumable products used in next generation sequencing. In her doctoral program, she designed and constructed a custom atmospheric-pressure quadrupole ion trap to measure water diffusion in single aerosols using Raman spectroscopy. She participated in summer undergraduate research programs at Oak Ridge National Laboratory in Tennessee and Lawrence Livermore National Laboratory in California.
-Lydia Ines Rivera Hyde, B.S. '00, MAS '13, program integration manager, Northrop Grumman
Registration for this event is required by May 2, 2019. Visit the registration page for details.