Mar 1, 2019–Mar 31, 2019
Women's History Month 2019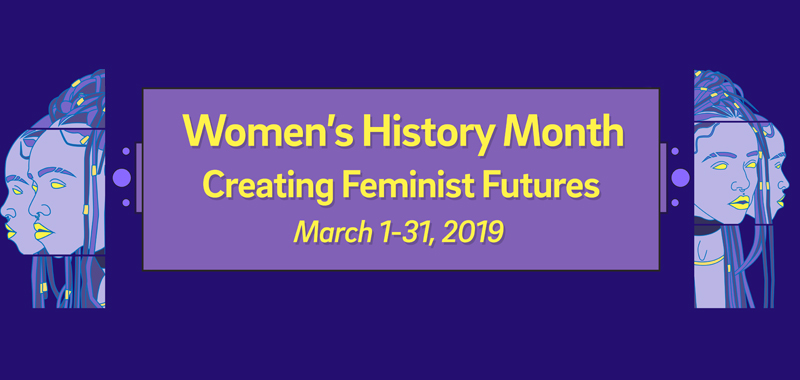 This March, the Women's Center at UC San Diego is celebrating Women's History Month with a series of events ranging from an art exhibition to a DIY self-care session and a comedy night. Many of the events are free and open to the public, and center around this year's theme of "Creating Our Feminist Future."
Event highlights of UC San Diego's Women's History Month Celebration include the following. All event details can be found at women.ucsd.edu.
March 4, 4 p.m., Fem Fest: A fair of women-centered student organizations will gather to promote their organizations and help young women find community.
March 8, 12 p.m., Gender Buffet: The Centerwoman and Erased Activist Voices: Every Friday, the Women's Center provides free food and cultivates conversation around weekly topics. All are welcome to discuss gender and sexuality as they relate to everyday life on and off campus.
March 12, 5 – 7 p.m., Women in Politics: Past, Present and Future: Join IGNITE's Chief Programming officer, Sara Guillermo, for an empowering presentation and discussion on the critical role that women played in America's political history and what IGNITE is doing to shape a future where women own their fair share of political power. Find out how you can join the movement of young women across the U.S. who are ready and eager to become the next generational of political leaders.
March 14, 3:14 p.m., Pi Day: Beyond Curie Art Reception: Beyond Curie is a celebration of over 40 rebel women scientists, mathematicians and engineers who have made incredible advances in their fields and never earned the recognition they deserve. Join us on Pi Day as well as celebrate the pioneers featured in the Beyond Curie exhibition and enjoy some pie.
March 1-29, Beyond Curie Art Exhibition: Beyond Curie is a design project that highlights rebel women in science, technology, engineering and mathematics. All of the women in Beyond Curie have overcome countless challenges in the pursuit of knowledge understanding and impact. This will be on display all month long in the Women's Center.
Date and Time
Mar 1, 2019–Mar 31, 2019
Location
Multiple
Event Registration
Registration is not required for this event.

Event Fee
Free
Contact
Marnie Brookole • women@ucsd.edu • (858) 822-0074
Audience
Faculty, Staff, Students, The General Public
Event Host
UC San Diego Women's Center
Event Category