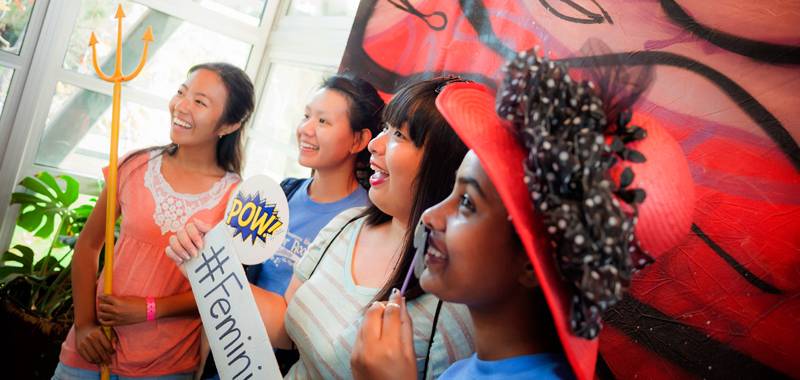 UC San Diego celebrates Women's History Month throughout the month of March with a series of events entitled "Women's Herstory Month" that recognize the rich stories of women's leadership, creativity and activism.
The month of March was designated Women's History Month by Congress in 1987. The campaign was led by the National Women's History Project, an organization dedicated to honoring the role women have played in shaping American history.
The 2018 theme is "Nevertheless She Persisted: Honoring Women Who Fight All Forms of Discrimination Against Women." Events create awareness and celebrate the efforts of women who have countered discrimination through persistent action, believing in meaningful and lasting change.
All events are free, unless otherwise noted, and open to the campus and local community.
Women's Center Open House
March 1, 11 a.m. – 1 p.m., Women's Center
Kickoff Women's Herstory month with a visit to the Women's Center. Learn about what we have planned for Women's Herstory Month and take part in a community art project. We will have art supplies for attendees to respond to the prompt "What would your feminist utopia look like?" Coffee and cookies will be provided. Sponsor: Women's Center.
Before #MeToo: The History of Sexual Assault Prevention and Response at UC San Diego
March 1, 3-4:30 p.m., Price Center East Ballroom
Join CARE at SARC for a conversation about the grassroots activists who built the foundation for sexual assault prevention and support services at UC San Diego. Panelists include students and staff from the original Rape Prevention Education workgroup and founding staff members of CARE at SARC. Sponsor: Care@ SARC.
Movie Tuesdays
Tuesdays Feb. 27 – March 20, Noon, Women's Center
Women's Herstory Month is a chance to seek out stories, experiences and histories that have been largely absent from public consciousness. Join us Tuesdays at noon from Feb. 27 to March 20 to watch films that explore issues of feminism, gender and activism. Bring your lunch and we will provide some fun movie snacks. Sponsor: Women's Center.
Affirmations & Artistry
March 5, 2018, 8:30-10 p.m., Fireside Conference Room
In honor of Women's Herstory Month, join us for DIY stress balls, sweets, coloring and a poetry marathon from women and femmes of color! For information or accommodations, please contact Kyra at kag022@ucsd.edu. Sponsor: Marshall Residential Life.
LunaFest @ UCSD
March 7, 7 p.m., Price Center Theater
The Colleges present the 17th Annual LunaFest. Short films by, for and about women. LunaFest was the first all-women traveling film festival to hit the screens and amplify the voices of strong women everywhere. Today, there are screenings in more than 175 cities across the nation where the work of talented women filmmakers are showcased. Sponsor: Council of CSAs.
Women's Conference
March 8, 8 a.m. - 4 p.m., Price Center
The UC San Diego Women's Conference brings together diverse professionals to share ideas on motivating today's working woman, offering tips on empowering one's self, budgeting and finances, and staying fit, healthy and well-balanced. The UC San Diego Women's Conference is free and open to all UC San Diego faculty, staff and students. This year's theme is "Be Bold for Change." Sponsor: Women's Conference Planning Committee.
Women of the World Panel
March 8, 1-2pm, Huerta Vera Cruz Room
This program is designed to celebrate and bring awareness to the struggles, strengths and issues involving women of the world. We are looking for students from various countries to discuss women in relation to education, traditional roles, family dynamics, employment, healthcare and more. Interested in being a panelist? Contact grfuller@uscd.edu. Light refreshments will be provided. Sponsor: UC San Diego Outreach Coordinators.
My, Your, Our Story: A Spoken Word Event
March 8, 6:30-8:30 p.m., Middle of Muir
In the spirit of Women's Herstory Month, we want to open up space to question the histories we've been told and listen to those who too often are told to be silent. Join us in celebrating the stories of our community at My, Your, Our Story, a night of spoken word and community building. We invite all community members to share their stories of resilience, persistence, activism, love and finding their voice. Sponsor: Women's Center and Muir College Center.
Pi Day Mixer at the Women's Center
March 14, 1:30-3:14 p.m., Women's Center
Let's celebrate PI day by coming together and recognizing the contributions of women and other gender marginalized people in STEM. We'll, of course, have pie, as well as some fun activities around the Women's Center. Sponsor: Women's Center.
Tea Time at the Women's Center
March 15, 5:30-7 p.m., Women's Center
Come de-stress with us before finals by making your own tea blends for yourself and/or your loved ones. Sponsor: Women's Center.
Mar 1, 2018–Mar 15, 2018
Registration is not required for this event.