Jul 8, 2019 at 8:30 am
Work Leader Training Laboratory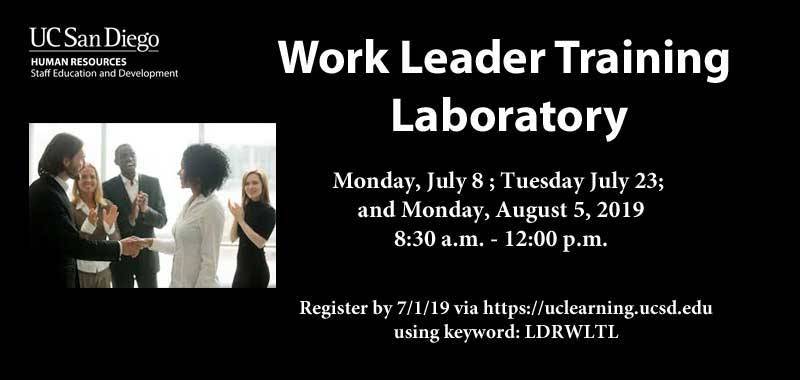 Work Leader Training Laboratory
Monday, July 8; Tuesday July 23; and Monday, August 5, 2019
8:30 a.m.–12:00 p.m.
Training Center North (TCN; Plaza Level, Torrey Pines
Center-North (TPC-N))
Instructor: Noemi Bravo-Rojas
Fee: $40 (registration/cancelation deadline 7/1/19)
Keyword: LDRWLTL
Intended for: employees who would like to develop their supervisory skills
Participants will gain more confidence in their roles as leaders by practicing effective coaching, providing feedback, and communicating about conflict in the workplace.
Topics include:
·Leading for employee success
·Determining appropriate leadership styles
·The ABC's of motivation
·Assertive communication
·Coaching for improved performance
·Managing workplace conflict
·Delegating work effectively
Videos, case studies, games, and exercises highlight this intensive twelve-hour course.
Date and Time
Jul 8, 2019 at 8:30 am
See more date(s) and/or time(s) below.
Location
Training Center North, Torrey Pines Center - North
Event Registration
Registration for this event is required by Jul 1, 2019. Visit the registration page for details.

Event Fee
$40.00
Contact
Staff Education and Development • staffeducation@ucsd.edu • 858-534-4890
Audience
Staff
Event Host
Staff Education and Development
Event Category
Conferences, Workshops and Symposia
All Event Dates and Times