Nov 12, 2019 at 4:30 pm
X Development (formerly Google X) Seminar | Secrets of Moonshots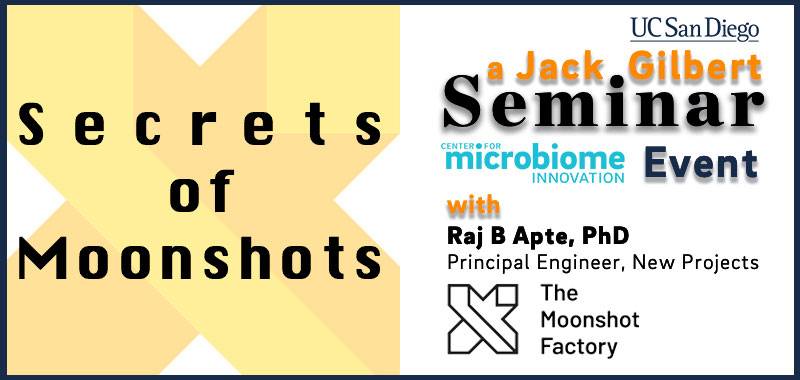 Presented by the UC San Diego Center for Microbiome Innovation and hosted by Dr. Jack Gilbert, this special seminar will feature Dr. Raj B Apte, the Principal Engineer of New Projects from X, the moonshot factory as he divulges the "Secrets of Moonshots."
This event will be followed by a reception with bar and appetizers.
X Development (formerly Google X) is an American semi-secret research and development facility and organization founded by Google in January 2010, which now operates as a subsidiary of Alphabet Inc. X has its headquarters about a mile and a half from Alphabet's corporate headquarters, the Googleplex, in Mountain View, California.
X's mission is to invent and launch "moonshot" technologies that aim to make the world a radically better place. A moonshot is defined by X as the intersection of a big problem, a radical solution, and breakthrough technology.
Date And Time
Tue, November 12, 2019 | 4:30 PM – 6:00 PM PST
Location
Atkinson Hall Auditorium
9500 Gilman Drive
San Diego, CA 92093
Date and Time
Nov 12, 2019 at 4:30 pm
Location
Event Registration
Registration for this event is required by Nov 11, 2019. Visit the registration page for details.

Event Fee
Free
Contact
Brittanie Collinsworth • b4collinsworth@ucsd.edu • 8585348390
Audience
Faculty, Staff, Students
Event Host
The Center for Microbiome Innovation
Event Category